Historical Sketch: Clearbrook Mennonite Church*
During the late-1940s and early-1950s, West Abbotsford Mennonite Church experienced significant growth. By 1952 the sanctuary was filled to capacity on many Sunday mornings. The congregation decided to build a daughter church in Clearbrook. Abraham H. Loeppky donated a lot on the corner of Clearbrook and Peardonville roads. West Abbotsford agreed to help finance the new structure and to draw up a list of people from the church interested in starting a new church. Clearbrook Realty and Insurance Agency sold the lot to the church for $1.00, and the sanctuary, built with much volunteer labour, cost $12,000.
Clearbrook Mennonite Church was formally organized on December 8, 1952 with 60 members. Abram I. Loewen, a minister at West Abbotsford, was the first pastor of the church. By January 1954 the membership had grown to around 120, and by 1965, over 200 members. The church was reluctant to relinquish the German language, and, in 1960, 52 people left to form a new English speaking church, Olivet Mennonite Church. The church, however, soon recovered and by 1963 had 213 members.
By 1972 almost 70% of the congregation was over 60 and by 1978 almost 95% of the members were retired. The church continued to attract older members moving into the Clearbrook/Abbotsford area until the 1990s, when attendance began to decline. A strong emphasis on the German language remains. By 2011, the membership had declined to under 50 with a weekly attendance of between 36 and 42. After continuing decline, the church held its last service in 2015.
Abram Loewen, who also owned a bookstore in Abbotsford and Chilliwack, led this congregation from 1953 to 1957. Hugo & Susanne Scheffler, German immigrants who lived in Bellingham, Washington, served from 1957 to 1963. Walter & Annie Thieleman had come from Paraguay and during their ministry the membership of the Clearbrook Mennonite Church increased. With Walter's musical talents, the church was richly blessed during their ministry, which lasted from 1989 to 1995. Hans Federau, also with Paraguan roots, and wife Alice brought a seasoned, pastoral presence to the congregation. During their ministry the Wellspring Christian Fellowship was invited to use the church building for their Saturday worship services. Siegbert Zukowski started his ministry after them.
The motto of the Clearbrook Mennonite Church was taken from Psalm 102: "Worship the Lord with gladness." The main emphasis in the church was worship and fellowship and the congregation's greatest strength was prayer and financial support of conference programs. The Clearbrook Mennonite Church was affiliated with both Mennonite Church B.C. and Mennonite Church Canada.
Picture Below: Clearbrook Mennonite Church as it looked in 1968.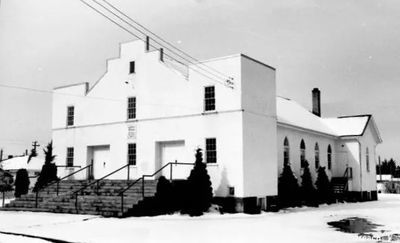 Picture Below: Clearbrook Mennonite Church as it looked in 2012.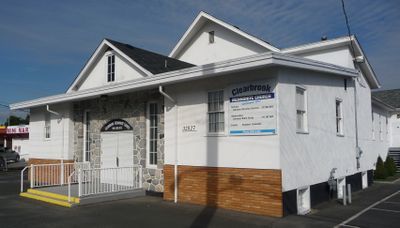 Pastors and years of ministry
| | |
| --- | --- |
| PASTOR | YEARS |
| Abram I. Loewen | 1952-1957 |
| Hugo Scheffler | 1957-1963 |
| John L. Zacharias (interim) | 1963-1964 |
| John J. Sawatzky | 1964-1972 |
| Jacob C. Schmidt | 1972 |
| Jacob Enns | 1973-1987 |
| Peter Harms | 1987-1989 |
| George Groening (interim) | 1989 |
| Walter Thielmann | 1989-1995 |
| Hans Federau | 1996-1999 |
| Jacob Tilitzky (interim) | 1999-2000 |
| Dietrich "Dick" Rempel | 2000-2005 |
| Siegbert Zukowski | 2005-2015 |
Membership
| | |
| --- | --- |
| YEAR | MEMBERS |
| 1952 | 60 |
| 1955 | 153 |
| 1959 | 194 |
| 1965 | 212 |
| 1975 | 233 |
| 1985 | 185 |
| 1995 | 151 |
| 2000 | 101 |
| 2005 | 62 |
| 2010 | 51 |
| 2014 | 42 |