Historical Sketch: First Mennonite Church, Kelowna
Mennonites began moving to Kelowna from Saskatchewan and Alberta in 1941, and in the summer of 1947 they united to organize the Kelowna First Mennonite Church. In the fall of 1946 they invited Jakob Janzen, ordained elder, who had just immigrated to Canada, to become its leader. Services began immediately in the home of George and Tina Letkemann and in January 1947, they rented the Orange Hall for weekly Sunday morning services.
In June 1947, the men of the emerging church chose the name Kelowna First Mennonite Church and wrote a constitution. The founding members totaled 29; with children the attendance numbered 49. On August 3, 1947, Jakob Janzen was elected as elder and John P. Vogt, as minister. Services and Sunday school were held in German. A choir, youth group, and ladies sewing circle were among the church activities. The congregation's first baptism was held on Pentecost Sunday in 1948.
A building committee was formed in 1949 and construction on a new sanctuary at 1305 Gordon Drive began on March 29, 1951. Later that year the congregation began meeting in the completed basement. Eventually the church sanctuary was completed and dedicated in October 1956. With the arrival of Jake Enns in the mid-1950s, some English was added to the worship services and Sunday school.
Tensions grew during the late 1950s due in large part to differing visions of the church. One group wanted to preserve the German language and Mennonite traditions, while the other group wanted more English in order to reach out into the surrounding community. In 1960, 29 people separated from First Mennonite and organized a new congregation later called Kelowna Gospel Fellowship, leaving Jake Janzen alone to lead First Mennonite.
In 1962 the decision was made to call an assistant pastor who could minister in both German and English. Throughout the decades numerous families from the prairies were added to the congregation. In 1968 Henry H. Dyck was hired as assistant pastor. By 1970 the church was thriving with a large group of seniors and many younger families with children and youth.
A new church building was completed in 1989, with the first service being held May 21, 1989.
Picture Below: First Mennonite Church Kelowna, 1989; the original sanctuary is in the front with the new sanctuary behind it.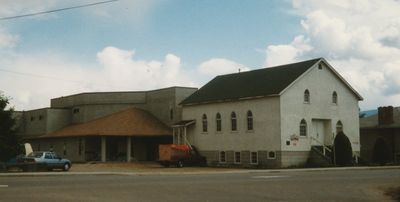 Picture Below: First Mennonite Church, Kelowna, BC, 2010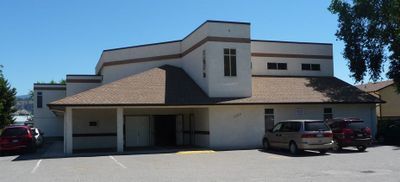 Pastors & Years of Ministry
| | |
| --- | --- |
| | |
| | |
| | |
| | |
| | |
| | |
| | |
| | |
| | |
| | |
| | |
| | |
| Lisa Martins Bartel (virtual pastor) | |
| Ken Dueck (virtual pastor) | |
Membership
| | |
| --- | --- |
| | |
| | |
| | |
| | |
| | |
| | |
| | |
| | |
| | |
| | |
| | |
| | |
| | |
| | |
| 2010 | 68 |
| 2015 | 54 |
| 2020 | 37 |