Historical Sketch: Flat Rock Mennonite Church*
The Flat Rock Mennonite Church was located about 50 km. east of Fort St. John near the British Columbia – Alberta border. Pioneer work was begun in Cecil Lake in 1950 after Mennonites had moved to the Peace River area from Saskatchewan in 1949. Five families had moved into the Flat Rock area in 1950, and they formed the nucleus of what eventually became the church.
In 1951 Hilda Giesbrecht started a Sunday school. Visiting ministers served the group until Bob Rogers was sent to the area by the Conference of Mennonites in Canada in 1954 to begin regular services on alternate Sundays. When Ken Esau moved to the area, he was able to serve on the other Sundays.
In 1955 a public school was built in the area, and the group held their services there. The first church building was dedicated in June 1962. The church was formally organized in 1970 and became a member of the Conference of the United Mennonite Churches of British Columbia in 1975 with 24 members.
Membership declined in the early 2000s. The church was disbanded in 2004, having met in homes during the last years.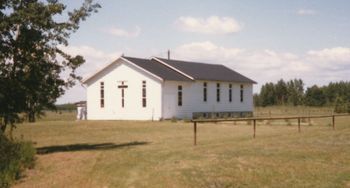 Pastors & Years of Ministry
| | |
| --- | --- |
| PASTOR | YEARS |
| Bob Rogers | 1954-1958 |
| Ken Esau | |
| Len Chmelyk | 1964-1969 |
| Walter Dirks | 1969-1982 |
| David C. Ruby | 1984-1988 |
| Philip Martens | 1989-1991 |
| Werner Janzen | 1994-1996 |
| Jon Corbett | 1997-2002 |
Membership