Historical Sketch: Level Ground Mennonite Church
Level Ground Mennonite Church was formed in 2008 when members of two churches, West Abbotsford Mennonite Church (established in 1936) and Wellspring Christian Fellowship (started in 1992), came together to form a new congregation. The two congregations, led by co-chairpersons Christine Dahl (Wellspring) and Ben Falk (West Abbotsford), had begun holding discussions at the beginning of 2008 to explore the idea of a merger. The congregations worshipped together for four Sundays in the spring of 2008 and then each voted to unite. The churches agreed to worship on Sunday mornings in the West Abbotsford sanctuary with West Abbotsford's Karen Heidebrecht Thiessen serving as the lead pastor. The united congregation's charter service took place on January 25, 2009 with 172 charter members. The congregation was accepted as a member of Mennonite Church British Columbia on February 21, 2009.
Two churches, stretched in resources, volunteers, and paid personnel, formed one dynamic church. Both had a similar vision: to be the church reaching out. They merged their visions and programs, and amalgamated assets and finances. Above all, they united a church with many elderly people with a church brimming with younger people and children. The new name was taken from the book of Ephesians where all are equal, where the ground is level at the foot of the cross for Jews and Gentiles, for slaves and free.
Level Ground Mennonite Church has a variety of ministries but tries to be volunteer- driven and has a well-developed network of Journey Groups. Level Ground's worship services include a sermon, a contemporary style of worship, a time of sharing and prayer, and a variety of multimedia features. For some time it had a second service of a more meditative nature which included some hymns, but this service was discontinued at the end of 2011 due to declining attendance. Children's work is done by volunteers but the church continues to offer Tippytoes Preschool in its building.
Many of those who are welcomed by the church are the marginalized and the church has a semi-autonomous ministry to drug and alcohol addicts in Lifebridge Ministries, pastored by Keith St. Jean. The church is located next door to Kinghaven Treatment Centre, a drug and alcohol treatment center for men, and many of the men attend the service and participate in Bible studies while receiving treatment. The congregation also offers Sunday morning transportation for women at Peardonville House, another drug and alcohol treatment center in the area.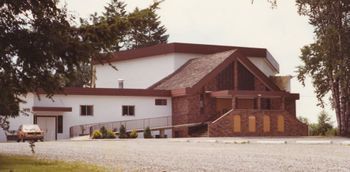 Pastors & Years of Ministry
| | |
| --- | --- |
| Karen Heidebrecht Thiessen | |
| Andrew Haak (Interim lead 2020-) | |
Membership
| | |
| --- | --- |
| | |
| 2010 | 188 |
| 2015 | 174 |
| 2020 | 178 |