Historical Sketch: Living Hope Christian Fellowship
The Conference of Mennonites in BC, under the church planting leadership of David Chiu and the Evangelism and Church Development Committee, was instrumental in the beginning of Living Hope Christian Fellowship in Surrey, BC.
Hans & Alice Federau and Lorin & Jeanette Bergen gave initial leadership to the work that began with approximately 20 people. The congregation met in the facilities of Cedar Hills Mennonite Church in Surrey. First United Mennonite Church in Vancouver and Bethel Mennonite Church in Aldergrove blessed and commissioned some of their own to form part of the initial core group.
The core group began meeting in April 1994, seeking to be in the community and for the community with the stated motto of "Enjoying God and sharing Him with Others." The congregation officially launched on October 17, 1994.
Living Hope is a family oriented church that strives to be relevant, vibrant, informal, encouraging, and joy-filled, with a passion to reach the unchurched in their community with the good news of Jesus Christ. Through worship celebrations, weekly cell group meetings, exciting children's ministry, and other avenues, they try to live out their vision to become increasingly multicultural reflecting the demographics of Surrey/North Delta and Sullivan.
A Chinese speaking congregation was birthed from Living Hope in 1998 and in 2011 a second campus was begun seeking to impact the Sullivan area of Surrey called Living Hope-Sullivan. The congregation, led by Wally Nickel, met Saturday evenings. This outreach concluded a year later in 2012.
Over the years God moved the congregation from a school gym in North Delta to share the facilities of Cedar Hills Mennonite Church in Surrey and eventually to a "marriage with Cedar Hills" in 2004 where the two congregations became one. Lorin Bergen continues to give pastoral leadership. Other pastoral leadership over the years has been given by Jonathan Deng, Thomas Regner, Paul Ndukwe, Ian Hern, Wally Nickel and Bob Boehr.
Living Hope has grown throughout the years and now has over 200 people at the Cedar Hills campus and 45 at the Sullivan location. Living Hope has developed into an international church with many different cultural groups represented in the family, especially Chinese, African, and most recently a group of Karen people from Myanmar.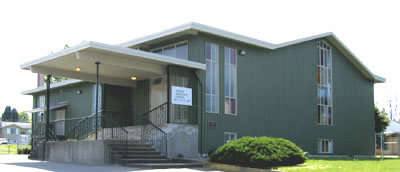 Pastors & Years of Ministry
| PASTOR | YEARS |
| --- | --- |
| Lorin Bergen | 1994-2012 |
| Gerry Binnema (interim) | 2012-2013 |
| Frank Berto | 2014-present |
Membership