Historical Sketch: Mennonite Church of Vernon*
The Mennonite Church of Vernon (MCOV) was founded in 1980 with 13 charter members, originating through outreach by the Conference of Mennonites in British Columbia. The congregation purchased and renovated a building on 27th Street in which to meet.
Edwin & Anne Brandt are considered the founding leaders of the group, serving from 1980 until 1990, during which time MCOV joined the Conference of Mennonites in British Columbia in February 1981 and the Conference of Mennonites in Canada in July 1981.
Ed & Tiena Giesbrecht served from 1986 to 1999. During their ministry the church became known as the "Little Brown Church with the Big Heart." By 1990 it was evident that a bigger facility was necessary. They relocated to a new location in 1993.
Geoff Thiessen served 2000-2002; attendance and membership grew to the highest point during this time. Hosting the Mennonite Church BC annual conference in June 2002 was a milestone for the congregation.
Eugene Harder served 2003-2005. Bob Cowan became lead pastor in May 2005. In September of that year, the church celebrated 25 years of God's faithfulness. By the end of 2006 the congregation was also able to retire the mortgage.
The church held Sunday school and Daily Vacation Bible School. It was active in home and foreign missions as well as locally at the Gleaners and the local food bank. Young people's mission trips and Mennonite Central Committee volunteers have gone out. Julia Koop, a congregant, was a missionary to Papua New Guinea.
Music was always an integral part of the worship service with vocal (including choir) and instrumental groups always prepared to be a part of the Sunday worship service and other programs. For many years a group sang at an Extended Care Facility.
The congregation was a member of the Conference of Mennonites in Canada until 2000 and Mennonite Church British Columbia until 2006. The congregation left both conferences following a decade of discussions on the issue of homosexuality. The church believed neither conference had adequately addressed their concerns on this issue.
In 2008 the congregation merged with the Cornerstone Evangelical Free Church in Vernon to form Grace Bible Church of Vernon, a non-denominational church.
Picture Below: Little Brown Church with the Big Heart.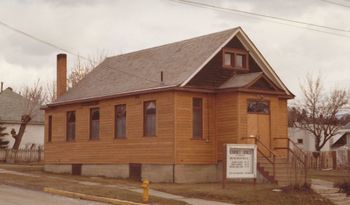 Picture Below: Mennonite Church of Vernon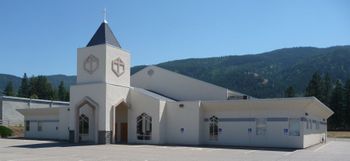 Pastors and Years of Ministry
Membership