Historical Sketch: Mountainview Mennonite Church*
In early 1951, several individuals associated with First United Mennonite Church in Vancouver expressed a desire for the Conference of United Mennonite Churches of British Columbia to plant an English speaking church in Vancouver. The idea was highly controversial but a vision for this church plant was nurtured by Henry H. Neufeld, who at that time was principal of Bethel Bible Institute in Abbotsford. Under Neufeld's leadership they began services in August 1952. The group was soon able to purchase a lot on the corner of Fraser Street and 31st Avenue and the first service was held in a newly completed basement on December 23, 1953. The sanctuary was completed in April 1955. An important part of the congregational experience was the construction of the building. Church members undertook the construction themselves. Members dismantled former military buildings and used the reclaimed lumber for the new building.
The new church, known initially as Vancouver Mennonite Mission, formally organized on March 18, 1956 with 63 members. The congregation changed its name to Mountainview Mennonite Church in 1972. During the 1970s the congregation was a significant leader in Mennonite urban ministries in Canada.
With the assistance of both the provincial and Canadian conferences, the congregation launched several outreach programs amongst the English-speaking community, and initiated the first Chinese Mennonite congregation in Vancouver — Vancouver Chinese Mennonite Church, under the leadership of Stephen Lee.
The congregation also supported the work of the Union Gospel Mission in Vancouver and assisted in the planting of Peace Mennonite Church in Richmond.
An important feature of the congregation during most of its ministry was the presence of young adults which included most of its pastors. University students were an important part of congregational life. This led to an intellectually vibrant church life. During the 1980s the congregation shifted its focus away from young adult ministry by hiring Les Klassen, at the time the lay outreach minister, to pastor the church.
Changing urban demographics, including rapidly rising housing prices, subsequently led to some members moving to other locations in the Greater Vancouver region. As an aging congregation with declining membership and limited financial resources, the congregation voted to close its doors in February 1996. Remaining members dispersed to other congregations.
The congregation is remembered through the Mountainview Fund of Mennonite Church BC. By a decision of the final members, proceeds from the sale of the church building were used as an endowment fund for future urban ministry in the region.
Mountainview Mennonite Church, 1980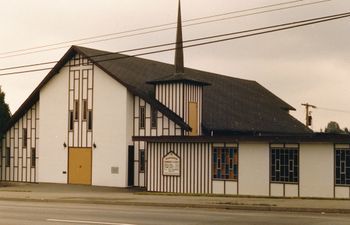 Pastors & Years of Ministry
Membership