Historical Sketch: Peace Mennonite Church
Prince of Peace Mennonite Church in Richmond, BC was approached in 1977 by Sherbrooke Mennonite Church, Vancouver, with the suggestion that these two churches co-operate in building a new church in Richmond. Erwin Cornelsen, pastor of Sherbrooke Mennonite, with a burgeoning membership, and John Sawatzky from Prince of Peace, with a good children's work but a very limited membership, met with pastors from the Vancouver churches to explore creating a new church. John Hiebert was elected the first congregational chair of the new church, Peace Mennonite Church. In 1979, Palmer Becker was called to pastor and guide the formation of this new church.
Land that was previously held by individuals from Sherbrooke Mennonite Church became the site of the new church. The proceeds from the sale of Prince of Peace Mennonite Church and the generous donations from the two churches and individuals made it possible to build the church facilities which were completed in 1980.
On September 7, 1980 the new church was dedicated. It included a sanctuary seating 250 people, an education wing, a fireside room, library, and offices. A full-sized gymnasium was built and owned jointly by Peace and Sherbrooke Churches. Peace Mennonite Church was officially constituted on November 30, 1980 with 135 charter members. The congregation joined the Conference of Mennonites in British Columbia and the Conference of Mennonites in Canada in 1981.
A strength of Peace Mennonite has been its flexibility to be a transitional community. Styles of worship, leadership, and diversity have added to the flavour. The earlier years saw a focus on the tensions of the day: marriage, divorce and remarriage, abortion, pubs in the neighbourhood, modes of baptism. Much thought was given to the organization of ministries: worship, especially the role of the Arts/Music, education, missions, youth, fellowship, and stewardship. More recently the church's role in the changing neighbourhood has been a greater focus.
Although the initial membership was primarily of European descent, it also included those of Japanese, Chinese, Taiwanese, Indonesian, Laotian, Ethiopian, and Punjabi ancestry. The diversity of the community in 1988 led to the launch of Peace Chinese Mennonite Church that continues to share the facilities to this day, worshipping in Chinese on Sundays following the English service.
The demographics of Richmond have changed dramatically since 1981. The once-rural community became a large urban city, with a population growth from under 100,000 to over 200,000. The greatest increase has been through immigration, primarily from South-East Asia. The sharp increase in land values in the neighbourhood impacted Peace Mennonite Church negatively. Membership in Peace Mennonite Church rose from 135 to over 200 members in a few years and leveled off at just below 200 for most of the following years.
The Sunday morning worship service has always been the primary focus for the congregation. There has been a conscious effort to include hymns as well as more contemporary songs. Worship teams have used various instruments such as piano, guitars, violins, drums, winds, etc. Throughout its history, the church has maintained a choir to enhance the worship on special occasions.
Programs initiated by Peace Mennonite Church include regular Sunday school for children, youth meetings, potlucks, Christmas banquets, an Mennonite Central Committee - Serving And Learning Together (MCC - SALT) program, support groups for refugees, a program for mothers of young children (MOPS), and volunteering at the MCC thrift store and Ten Thousand Villages. Peace has provided space and volunteers for the Richmond Food Bank. Members also support and volunteer at a variety of community organizations, working with children, the homeless, elderly and disabled.
Peace Mennonite Church has always tried to do its share in supporting denominational programs. Members have served on boards and committees related to Mennonite Church Canada, Mennonite Church BC, MCC, Mennonite Economic Development Associates (MEDA), and a number of local organizations.
In 2006 an agreement was made with Mennonite Church Canada to co-sponsor a peace-making mission project in the Philippines. Dan & Joji Pantoja were sent to the Mindanao area and two other couples from Peace Mennonite have since become involved there as well.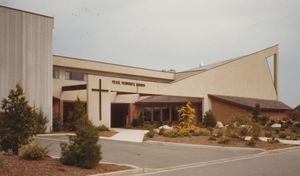 Pastors & Years of Ministry
| PASTOR | YEARS |
| --- | --- |
| Palmer Becker | 1979-1988 |
| Donovan Smucker (interim) | 1988 |
| Sven Eriksson | 1989-2002 |
| Tim Kuepfer | 2003-2015 |
| Mark Fox (transitional) | 2015-2016 |
| Winston Pratt | 2016-present |
Membership