Historical Sketch: United Mennonite Church of Black Creek
Twenty kilometers north of Courtenay on Vancouver Island, BC, nestled within the trees and lawns of a small rural acreage, sits the United Mennonite Church of Black Creek (UMC). Although the early Mennonite settlers in Black Creek, beginning in 1932, moved directly from the prairie provinces, they were part of a wave of immigrants from the Mennonite settlements in the Soviet Union. They worked at mixed farming as well as in logging camps and lumber mills. Their reputation as honest, hardworking men and women was soon established and many were offered jobs simply by virtue of the faith community to which they belonged. The original families included Henry & Elisabeth Schulz, Jacob & Margaret Brucks, Aron & Justina Enns, Jake & Anna Nickel, William & Elizabeth Hamm, Jacob & Maria Dirks, John & Aganeta Kroeker, Jacob & Maria Penner, George & Katherine Wedel, and Peter & Anna Hildebrand.
In 1937, a group of Mennonites that had been meeting in homes and the local school decided to formally organize as a congregation with 34 members under the leadership of Henry H. Schulz. At the same time, the decision was made to build a church. Bil Halbe donated three acres of land for the church, the cemetery, and school (now Halbe Hall).
Elder Jacob H. Janzen helped to raise funds for the church, collecting half of the $200 needed for the construction of the 24 by 36 foot building. United Mennonite Church was built by a group of men and women who, despite the challenges of cultural barriers and the Great Depression, were determined to have a central meeting place to worship God. The foundation was laid on March 24, 1937 and Rev. Janzen dedicated it in the fall when he arrived.
United Mennonite Church of Black Creek is one of the oldest churches affiliated with Mennonite Church British Columbia, one of seven BC churches that are listed as attending the first provincial conference in 1936. Like several other Mennonite congregations in British Columbia, this congregation also started services in cooperation with settlers who were Mennonite Brethren. Perhaps more than any other Mennonite Church, it has maintained close ties with its sister church.
Jacob Brucks, who came to Black Creek in 1936, became the first lay minister at the United Mennonite Church, leading meetings, reading sermons, and teaching Sunday school.
In 1939, Nickolai N. Friesen came to serve the church at their request. During his first two years, Friesen taught students at a winter Bible school. During the war years many Mennonites went into the Alternative Service Program for Conscientious Objectors. Due to the close proximity of many of these camps to Black Creek, the congregation became involved in ministry to them. Friesen ministered to them on many occasions. Friesen was the first ordained pastor in the congregation, serving in that role until 1954.
Friesen was followed by Walter Dirks, 1954-1959. During Dirks' ministry, the congregation sponsored a Sunday school mission at Oyster Bay where a mission chapel was built in 1957. In the early 1960s the church was again without a pastor, so they called Gerhard I. Peters of Chilliwack to come to Black Creek on weekends. He did this for two and a half years, making at least 100 trips and visiting 156 homes. Jacob Enns served from 1963 to 1968.
On December 15, 1963 the church dedicated its new sanctuary, moving from the small original building to a new and much larger facility located on land donated by Ben & Tina Enns. This building easily accommodated the growing families of the original settlers and other Mennonites who had been attracted to the community.
Jacob Enns and his family moved in 1969 and he was followed in the pastorate by Jacob Schmidt, 1969-1970, and Abram Koop, 1970-1978. After Abe Koop's term, it was some time before Black Creek was able to find a permanent pastor. Short term and interim pastoral care was provided by Peter Froese, Hugo Scheffler, Steve Dick, Nick Dyck and Paul Koehler. In 1985 Peter Neudorf arrived from Calgary to re-established pastoral continuity.
The late 1960s saw a strengthening of the effort to reach out to the broader community. The more frequent use of English in worship services helped; by 1971 English was the first language of worship and the 1970s and 1980s witnessed a greater cultural diversity within the congregation. Peter Neudorf continued the focus on community outreach and under his leadership the church experienced growth that resulted in a significant expansion of the church building in 1994, having 93 members.
The congregation had an exceptionally strong youth outreach program from 1994 through 2005 under the supervision of Lynn Magee that saw many youth not only participate in social activities, Bible study, and mission trips, but also come to faith in Christ and be baptized. The youth group was large enough that UMC hired Scott Cosman as half time youth leader, 1998-1999.
Peter Neudorf left in 1996 to accept a position at Greendale Mennonite Church and Marv & Tanell Wirzba shared the pastorate at UMC, 1996- 2000. Abe Buhler was called and served as pastor from 2001-2003 and was followed by the return of Peter Neudorf who served a second term from 2003 until his retirement in 2007. Steve Isaac was called to fill the pastoral position and served until 2009. Gordon Carter served as interim pastor 2010-2014. Gerry Binnema pastored from 2014-2020 when we left to become lead pastor of Crossroads Community Church in
Chilliwack. After a short interim with Peter Tyne, in 2021 Dan Forest began his pastorate.
In the summer of 2012, the Church celebrated its 75th anniversary with the motto, "Follow Thou Me." The church has always valued its relationship with MCBC and its affiliated churches.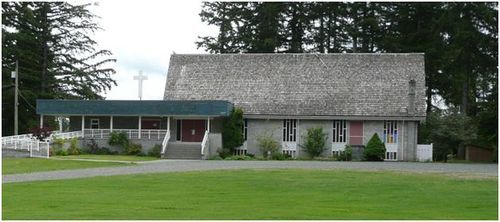 Pastors & Years of Ministry