Historical Sketch: Chinatown Peace Church
The Vancouver Chinese Mennonite Church began its first services in 1977 and formally organized on 4 June 1978 with 41 founding members. The congregation originated through outreach by Mountainview Mennonite Church as well as the conferences. The congregation joined Mennonite Church British Columbia and Mennonite Church Canada in 1979.
Pastor Stephen Lee was the founding Pastor of this church, and served the congregation until 2001. Paster Ng served for one year, and from 2002 until 2007 the congregation was without a Chinese / Senior Pastor. The pastor Lup Chee Ngai joined the church in 2007.
Initially this congregation used the facilities of Mountainview Mennonite Church for their services. In 1978, the church purchased a former YMCA building in Chinatown through the financial assistance of the conference and individual church members. Starting from September 24, 1978 all church activities were relocated to these new premises at 375 East Pender Street, Chinatown, Vancouver. In 1984, the old YMCA building was demolished and a new church building was constructed. In 1995, the church extended the original building to provide spaces for a Senior Home. The extended wing was built on the area of the church's parking lot.
The church conducts two major outreach activities each year. In the spring the congregation puts on a drama performance specifically for members of the community. For the past two years the event has been quite successful, with many people attending. In December of each year they put on a Christmas musical performance, again to attract the local community.
The group is also active in providing monthly services (first Saturday of the month) to two nearby Senior's residences, including singing, stories, dancing, and Bible readings. As part of this service they also play games with the residents.
Starting in 1979, many Mennonite churches sponsored Chinese speaking boat people from Vietnam, who joined this church. These new immigrants and following generations now make up the majority of the existing congregation members. The congregation began holding two worship services on Sunday around 1995, with a 9:30 am service in English, and an 11:00 am service in Cantonese.
The Cantonese service, pastored by Lup Chee Ngai, is traditional, using hymns and choir. Attendance is mainly in the senior age group. Their emphasis has been on outreach the past several years.
The English service is more contemporary and more casual in style and with singing accompanied by guitar, bass, drums and piano. Primarily professionals and younger families with children and youth attend this service. Billy Chiew has been serving as English pastor for the past 12 years. This group has had more focus on small groups, youth and leadership development.
Changed their name to Chinatown Peace Church.
In 2011 the total attendance was around 120, plus 25 children and youth.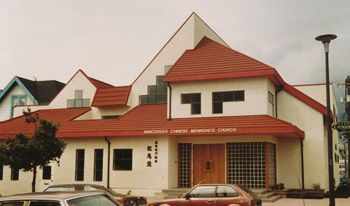 | Pastor | Years |
| --- | --- |
| Stephen Lee | 1977-2001 |
| Lup Chee Ngai | 2007-2014 |
| Martin So | 2015-present |
| Tim Kuepfer | 2017-present |