A Bold Idea and a Servant Heart: Story of the 1984 Bike-a-Thon
April 21st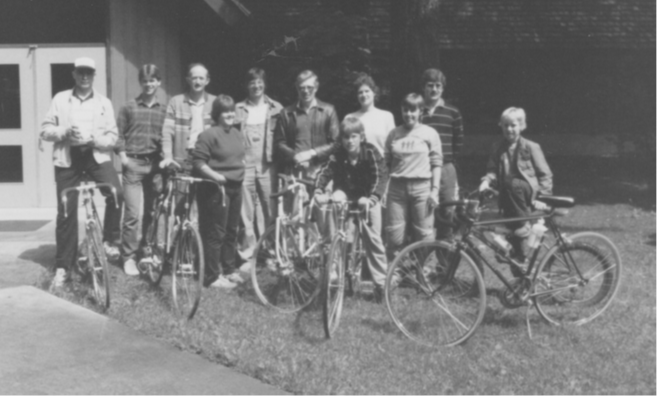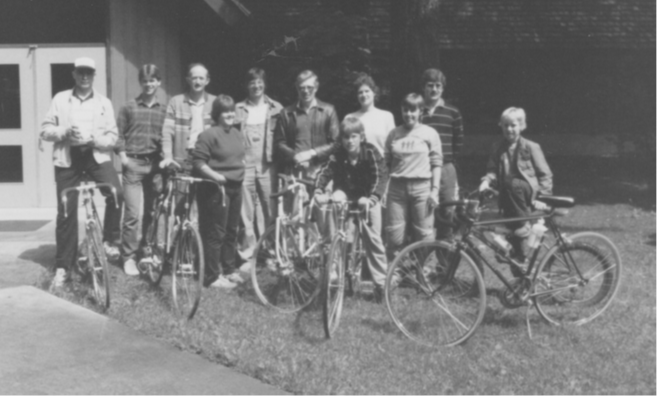 Picture: Some of the bikers who participated in the bike-a-thon; only three made it the whole way – Abe Loewen (far left), Bill Klassen (3rd from left), and Jack Friesen (6th from left).
A Bold Idea and a Servant-Heart
Written by Ken Dueck
(from notes by Bill Klassen and Kevin Barkowsky)
In the spring of 1984, three men had a bold idea – organize a bike-a-thon to raise $5500 for a mobility scooter. The three men were Jack Friesen, Bill Klassen, and Abe Loewen (executive members of the Mountainview Mennonite Church Council). Ozwald Froese, a member of the church and a paraplegic, needed new wheels.
As the three men brainstormed, the plans took shape. They would encourage participants to join a bike-a-thon, each seeking sponsors willing to donate 20 cents per mile biked. The route would start at a shopping mall in Burnaby and travel via Lougheed Highway all the way to Camp Squeah (a distance of 95 miles/155 km).
Between 15 and 20 participants showed up at the mall that spring Saturday for the long bike ride. Helen Klassen (Bill's wife) would escort them in a camper van. The light rain at the start soon turned into a downpour. By Pitt Meadows (about 20 km) the bikers stopped at a laundromat to dry their clothes.
The rainstorm, which continued through Mission (about 60 km), proved daunting. The distance and weather had taken their toll; bikers began dropping out. From Agassiz on (just over 40 km from the camp) only the original three remained. Fueled by their bold idea and servant-hearts, Jack Friesen then Bill Klassen then Abe Loewen arrived exhausted and saddle-sore at Camp Squeah.
Their goal had been achieved – they had biked to the camp and they had raised the funds. Ozwald Froese got a new mobility scooter.