Historical Sketch: First United Spanish Mennonite Church
First United Spanish Mennonite Church (Primera Iglesia Menonita Hispana) in Vancouver, BC, is a daughter church of First United Mennonite Church. Their first meeting was in November 1990 and the congregation was officially organized as a church in 1996. The congregation meets in the facilities of the parent church and has been affiliated with Mennonite Church British Columbia since May 1992. They are also affiliated with the Spanish Mennonite Church of North America and the Council of Mennonite Churches of North Pacific.
The first pastor was Artur Bergen from Paraguay. After Bergen returned to South America the congregation was served by a part-time pastor from Chile, Omar Cortés Gaibur, who stayed for short time while studying at Regent College. In 1996 Jorge Hoajaca was invited to be pastor. He and his wife Ericka worked very hard to establish the church. In spite of the challenges of working with a congregation of immigrants and refugee claimants, the church has experienced slow but steady growth.
The congregation is blessed with voluntary leaders of worship, youth, women, children, and Sunday school. As a Spanish congregation their services are conducted in Spanish with translations into English. Members of the congregation are from different Latin America countries, including Guatemala, El Salvador, Nicaragua, Mexico, Colombia, Bolivia, and Chile.
First United Spanish Mennonite Church has programs for children, youth, women, senior, families, and new immigrants. They are committed to working with newcomers from Latin America, and have learned to preach a holistic gospel. The congregation operates a Resource Office that is financially supported by Mennonite Central Committee. Through this ministry they support refugee claimants, refugees, and other immigrants. Sometimes they minister in the Downtown Eastside of Vancouver serving food. They are also involved with other ministries alongside other churches, like ESL classes and a food bank.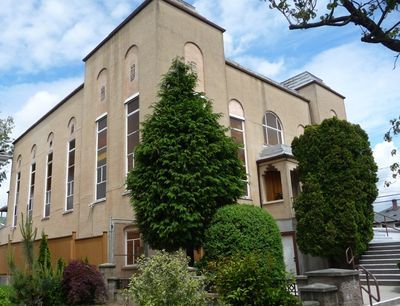 Pastors & Years of Ministry
| | |
| --- | --- |
| PASTOR | YEARS |
| Artur Bergen | |
| Omar Cortés Gaibur | |
| Jorge Hoajaca | 1996-present |
Membership
| | |
| --- | --- |
| YEAR | MEMBERS |
| 1998 | 32 |
| 2000 | 46 |
| 2007 | 50 |
| 2010 | 60 |
| 2015 | 57 |
| 2020 | 35 |