October 26th

Executive Minister Search Task Group announced

Garry Janzen has expressed his intention to retire from the position of Mennonite Church BC Executive Minister in summer 2022. After much prayer and discussion, MCBC's Leadership Board has created an Executive Minister Search Task Group (EMSTG). Here are the members of this task group: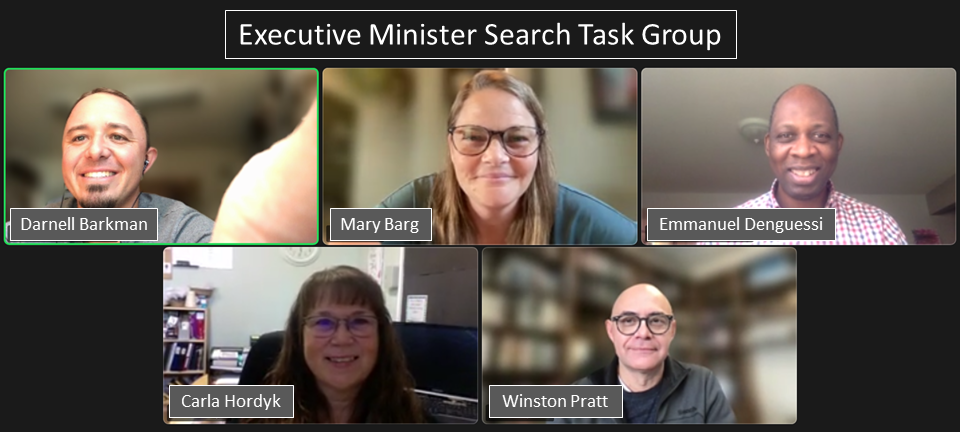 Darnell Barkman (Yarrow United Mennonite Church)
Darnell is the Pastor of Yarrow United Mennonite Church. He is married to Christina. They have four children between eleven and four years old. They served with International Witness in the Philippines for seven years (2008-09, 2012-18) as church planters and peacebuilding workers. Darnell has served as MCBC Vice Moderator since 2019.
Mary Barg (Eden Mennonite Church)
Mary lives in Chilliwack on a dairy farm with her husband Duane and whichever of their six children are not away at university. They have attended Eden Mennonite Church since getting married in 1995. Mary has served as Secretary on the MCBC Executive Committee since 2017.
Emmanuel Denguessi (Emmanuel Mennonite Church)
Emmanuel was born in Canada and raised in Cameroon (Central-West, Africa). He serves as the vice-chairperson at Emmanuel Mennonite Church. Professionally, he is involved as an academic facilitator at TWU where he teaches leadership courses. Emmanuel is married to Eleni and they have two children, Shaka (7) and Malaika (3).
Carla Hordyk (Living Hope Christian Fellowship)
Carla and Richard, her husband of 28 years, are one of the founding couples of Living Hope Christian Fellowship. They have two daughters. Carla serves Living Hope as the Associate Pastor of Discipleship and Administration.
Winston Pratt (Peace Mennonite Church)
Winston and his family came to Canada from South Africa in 2010. He was grafted into the Anabaptist family tree in 2016 as Lead Pastor at Peace Mennonite Church. Winston is excited about the transformational difference our churches and conference can make for Christ here in BC.
The task group has already been meeting. Please pray for wisdom and guidance as they travel the path that God has set before them.