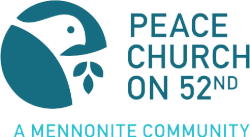 Peace Church on 52nd, located in Vancouver, BC, is searching for one fulltime pastor to serve in a culturally diverse urban setting, starting January 1st, 2024. We hold to the Anabaptist theology, are members of Mennonite Church BC and MC Canada, and need a pastor to lead us as we strive to continue to develop our relationships with Christ, each other, and the community.
Candidates should have the following:
Capacity to relate to various age groups and cultures.
Church leadership experience, with a focus on preaching and worship, pastoral care, nurturing and supporting lay leadership gifts, and connecting in the neighbourhood.
Ability to work and mentor in a team environment. Actual responsibilities will take into account the gifts each person brings to address the needs of the congregation.
Commitment to Anabaptist theology.
Post secondary religious education.
Short-listed applicants will be requested to complete a Ministerial Leadership Information Form.
Full job description below.
Interested applicants can send their cover letter and resume, including a link to a video or audio recording of their preaching, to the Search Committee at emkoloska@gmail.com.
Closing date for applications: September 15th, 2023.
View/print this page: PDF
PEACE CHURCH ON 52ND
PASTORAL JOB DESCRIPTION 2023

Qualities of Applicant:
We are looking for someone who is experienced, Christ-centred and has a missional outlook, desiring to discern what God is doing in a local context and to join in on that work. We are looking for someone who has shown leadership with an Anabaptist theological and ministry perspective. We are looking for someone who is comfortable relating to a wide range of people – young and old, rich and poor, those with mental health issues, those recovering from addictions, and people from many different cultural backgrounds (German, Spanish, Punjabi, Filipino, Asian, etc.).

Position Purpose:
To use your gifts in working with the Congregation and Church Staff at Peace Church on 52nd to create an environment where Christ is made known that fulfills the overall Vision of Peace Church on 52nd: "We seek to follow the way of Jesus Christ through our worship, our hospitality, and our discipleship in the diverse neighbourhood where God has placed us."

Teaching/Exhorting
Preaching a minimum of 3X a month on a 5 Sunday month 4X
Develop and support Small Groups
Leading the congregation in a call to worship and prayers 1/month, possibly more if needed
Empowering/Equipping:
Participates in meetings such as Church Council; Outreach, Service & Caring Committee
Initiates prayer meetings with the congregation
Encouraging and equipping those involved in ministry (through emails, phone calls, drop-ins, etc.)

Organizing/Communicating
Work together with Worship Committee on worship themes, series, speakers, and planning services
Administrative tasks such as bulletin announcements
Planning meetings with Office Administrator, to plan out finer details of services and events (weddings, funerals, special events, etc.)
Maintaining connections with MCBC and other local churches
Caring in Christ's name
Member/attender visitations (in hospital, care homes, etc.), and working together with lay people in church, as required
Representing God when officiating at communion, weddings, funerals, other church functions and life transition events

Entering into Prayer on behalf of God's people

Personal and daily prayer on behalf of the congregation
Calling others to prayer in times of discernment/need

Community Engagement

Involved/participating in deepening and strengthening our various connections in the community
The pastor will encourage and engage with the congregation in the Great Commission of reaching unchurched people.
Specific work will depend partially on the strengths of the applicant.

Visioning and Future Directions

To work collaboratively with the Church Council regarding the future of Peace Church on 52nd, both short term and long term.

Benefits

Every 3rd month the Pastor takes a Sunday off for self-care.
Benefits package and Pension plan
A full-time salaried position
Assistance in relocation
Flexible office working hours